2017: FIFTY-FOUR YEARS of Quality Choral Music on the Garden Island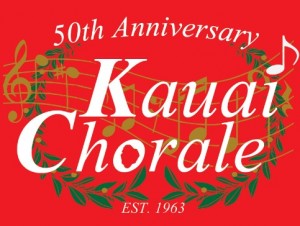 Since 1963 the Kauai Chorale has been presenting musical programs here on our wonderful island.  2013 was a grand celebration of the chorale's 50th anniversary of making beautiful music. IN 2018 we are 5 years into a great second half of our century of music with our Spring Concerts, and now we head towards our 54th Spring Concert season!  We would love to increase our numbers to include every musician on the island who loves to sing,.
Kauai Chorale is a not-for-profit organization funded in part by the State Foundation on Culture and the Arts and KIUC, as well as members' dues, ticket sales and contributions. And now YOU can help support us at no charge.  Just click on the Amazon Smiles banner (at right or below) and Amazon will donate a portion of your purchase prices to Kauai Chorale.
We encourage you to check out our Events Calendar for concerts and other events we will be sharing for the rest of 2018!  If you are a singer don't deny yourself the fun of joining the chorale for our Spring 2018 season, starting in January.  Not a singer?  You still won't want to miss your chance to attend very special concerts, and sing-alongs, and watch out for flash mobs around the island! To stay in the know, please sign up for our newsletter at the right of this and every page of our website.
So how did Kauai Chorale begin…?
The Past 55 Years…
The first choristers were directed by Mel Gallagher who rehearsed them in his home and presented one concert a year.  Others followed over the years including our current director, Lois Ricciardi, who in 2018 celebrates nearly thirty years on the podium.  During this time the group has grown from a newly formed chorus rehearsing in homes to over 100 singers, depending on the season.  All ages and levels of musical experience and training are welcome. Our 2013 members ranged in age from 8 to 81, with musical training levels from no musical experience to others with musical degrees.  In past years members have ranged in age from 7 to 94!  The group is a non-auditioned cross-section of Kauai residents from Hanalei to Barking Sands who just love to make music. The chorale rehearses every Monday evening (except summers) from 7:30-9:30pm at Island School, behind the Kauai Community College campus.
Performing through five and a half decades
The Chorale has performed several times with the Honolulu Symphony and works have included "Jesus Christ Superstar", Vivaldi's "Gloria" and Leonard Bernstein's "Chichester Psalms".  It has often been  joined by other venues  such as the KCC Wind Ensemble, the KCC Orchestra, CKMS Chorus, Kalaheo School Sunshine Express, Lihue United Church Bell Choir, Kauai Dance Theatre, Delta Kappa Gamma Sorority Interpretive Signers, Gleemen Plus of Honolulu, smaller ensembles from our community musicians, even our own Mayor Bernard Carvalho and many others. In 2012, we combined forces with the KCC Orchestra to perform Carl Orff's "Carmina Burana".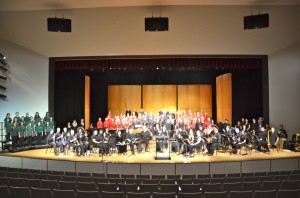 The group has survived some interesting challenges over the years.  The Chorale was prepared to perform Handel's "Messiah" with the Honolulu Symphony in 1982 when Hurricane Iwa intervened damaging the Convention Hall and canceling the concert.  Not to be outdone by a "simple storm" the community rose to the occasion.  Lihue Hongwanji offered rehearsal space and St. Catherine's Catholic Church and Lihue Church of Latter Day Saints offered performance space.  Since then, the Kauai Chorale has performed "Messiah" several times.  Most recently we presented this magnificent work in an interactive, audience "sing-along" format on November 30, 2013 in honor of the holidays and our 50th year.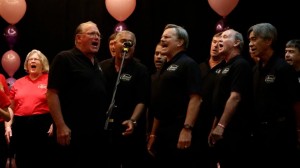 Ever versatile, the chorale has stepped into the new millennium and celebrated its 50th anniversary year with a much more modern way to make music – the "flash mob" – with "pop-up performances" at the Zontas "Eat Dessert First" event in early February 2013, and several surprise Valentine's Day "strolling flash mobs"  in and around the restaurants at the Kaua'i Marriott, Anchor Cove and the Harbor Mall.
Flash mobs spread the fun
"Flashing" Ron Wiley at KONG Radio in October, 2013 was a blast!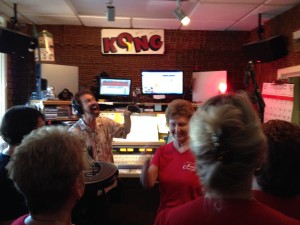 Honoring the past, but looking to the future…
The 2013, 50th Anniversary Gala was a great time for all the members and attendees to relax and enjoy the great food at Joe's on the Green, some fun entertainment.  It also kicked off the creation of our scholarship fund and the various fundraisers gave bargains to be had and raised money for both the chorale's operating expenses and created the "seed money" for the new scholarship program!  Honored guests included 3 of the original Chorale members from those first rehearsals at Mel Gallagher's home, plus some of our newest and youngest members attended. The evening was capped off with presentation of two proclamations from our mayor.  One honored the 50 years of performances and community service by the chorale and the other in honor of Lois Ricciardi's 25th year as director.
For the remainder of 2014, our 51st year, there's more fun ahead!  You never know where Kauai Chorale will show up.  Concerts, flash mobs and mini-concerts are always possible- so sign up for our newsletter, or visit the website's Events Calendar regularly so you won't miss anything else!
While treasuring the memories of the past 51 years' growth and accomplishments, we step into the next half century, anticipating further growth, more activity to promote the performing arts among Kauai residents and bringing choral music to Kauai on an even grander scale in coming years. With your participation, help and support as members, listening as our audience or by becoming a sponsor, we can look forward to bringing as much joy to the Garden Island in the next 50 years as our memories provide us from the past 50!
MAHALO, KAUAI!