JOIN US SEPTEMBER 14, 2015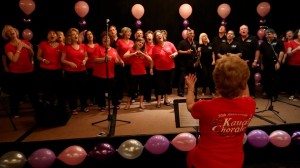 Plan now to join us!  Kauai Chorale starts into the fall semester of its 52nd year with its Membership Drive and Registration on September 14, 2015.  Sign up at right for our newsletter for advanced information and email updates on membership registration, concert ticket sales and special announcements! Registration and music pickup starts at 7pm followed by our regular rehearsal from 7:30-9:30pm at Island School, behind Kauai Community College. Please sign up for our newsletter (at right) for updates and announcements of membership drives, rehearsals and performances.
The Chorale offers community service through providing high quality choral music concerts with a wide range of musical styles that have entertained and delighted audiences on Kauai for over 50 years. Performance opportunities abound, whether you read music or not, have musical training or just love to sing.  From singing with the whole group to solos, duets and small ensembles, there is a place for everyone.  Our members have ranged in age from 7 to over 80 years young! We hope to reach 200 singing members in the next few years.
HOW TO JOIN:  There are no auditions required and all ages are welcome to join. Membership in the Kauai Chorale is open to anyone who enjoys singing. Musical training, or the ability to read music while helpful, is not required. Some of our members learned to read music after joining the group, while some have formal musical training – and are always happy to help, and most are somewhere in the middle.  Just fill out our simple registration form, bring it and $30 dues in cash or by check made out to Kauai Chorale with you and attend one of our first three rehearsals.  Bring a pencil in hand and a song in your heart. See our calendar for dates and times for new member registration.
As a performing organization, it takes consistency of attendance to create a polished performance.  Therefore, we do request a responsible, consistent commitment to attend 2 hours each Monday evening from 7:30-9:30 during each of our semesters. We do not rehearse in the summer.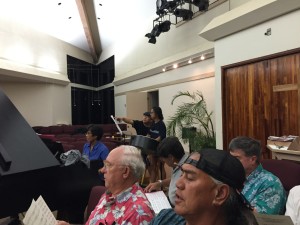 REHEARSALS:
Time:  Every Monday night during each semester (see calendar) from 7:30-9:30
Rehearsal place: Island School Cafetorium, behind Kauai Community College campus in Puhi on the island of Kauai, Hawaii. Registration for new members is held the first month of each semester, September and January.  Registration begins 7PM, followed by a rehearsal from 7:30-9:30pm.
Fall 2015 semester music will include John Rutter's "The Reluctant Dragon," and many great songs of the Christmas and Holiday Season. Our Winter/Holiday Concerts will be held: Saturday, December 19, 7:30 pm, at Kauai Community College Performing Arts Center and Sunday, December 20  5:00 pm at the St. Regis Hotel Ballroom, Princeville.
SEE YOU SEPTEMBER 14th at Island School, 7pm!
Spring 2016 semester starts in mid-January with rehearsals every Monday night through our two concerts in May, 2016.
COST:  There is a small dues payment of $30 payable at registration for each semester to help cover the building and maintaining of our choral music library.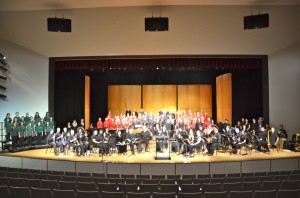 PERFORMANCES:  Typically we present 2 concerts each semester, back-to-back in two different locations in December and May. We also sing each December for the "Lights On Rice" at the Kauai County Courthouse. We have occasional extra performances and events, some less formal in nature than our typical concerts, such as singing for the annual "Lights on Rice" Christmas celebration and suprise "flash mob" performances.  You won't want to miss this opportunity if you love to sing and enjoy like-minded fellowship with fellow musicians!
We are a fun group, but we are serious about always presenting a well-rehearsed and performed musical experience for our audience. Come share in our fun! Watch the upcoming events calendar or email us for further information.