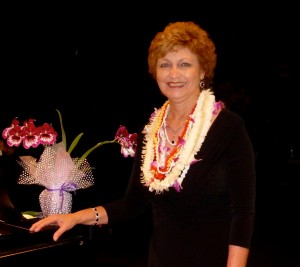 Lois Ricciardi celebrated 25 years in 2013 as director of the Kauai Chorale. Starting with a brief few years from 1979 to 1983, then from 1994 to the present time, she brings a broad background and education in music to the chorale.  With the chorale's goals always in mind, to contribute to the cultural and fine arts climate of Kaua'i through volunteer musical events, Lois is known for crafting programs from a wide range of choral literature that is both fun and challenging to sing, and creates a diverse, enjoyable concert performance.
Under her direction the chorale has performed major choral works including Leonard Bernstein's Chichester Psalms, Handel's Messiah,  Vivaldi's Gloria, and in 2012, Orff's Carmina Burana.  Lighter music from musical theater, popular music, as well as many standard choral smaller works are commonly performed in the Chorale's concerts.  The holiday concert performances include some beautifully arranged standard Christmas carols and a few fun surprises along the way.
Says Lois, "I have a very passionate spot for the Kaua'i Chorale because it is rewarding to see people grow, as opposed to taking excellent singers who already know a lot."
On October 19, 2013, Lois was presented with a proclamation from Kauai's Mayor Bernard Carvalho honoring her 25 years as director of Kauai Chorale.